Nine Auckland beaches, including the region's most dangerous West Coast surf and swimming hot spots, could get paid lifeguards working longer hours over more weeks from next summer.
All six West Coast beaches worked by lifeguards will be patrolled for between two and seven more weeks if Surf Lifesaving Northern Region can secure an extra $455,000 in Auckland Council funding.
The West Coast beaches with lifeguard patrols are Muriwai, Bethells, Piha, North Piha and Karekare and Kariaotahi.
The other beaches in line for a longer season of paid lifeguards are Omaha, Orewa and Long Bay.
The extra funding will also pay for the unpatrolled beaches at Tawharanui, where one person drowned on Sunday, and Te Arai to be patrolled for eight weeks over the summer at a cost of $156,000.
Surf Lifesaving Northern Region chief executive Matt Williams said the level of lifeguard services needs to change with lifestyle changes and people going to beaches at different times.
The regional service provides volunteer patrols at 11 beaches from Labour Weekend to Easter, paid lifeguards to cover weekdays and search and rescue squads responding to calls outside patrol hours and locations – the biggest area of growth over the past five years.
A report from Surf Lifesaving Northern Region to Auckland Council requesting the extra funding says the last five seasons for Surf Life Saving have been exceptionally busy.
"The narrative of 'exceptionally busy season' may be better reframed as current patrolling services no longer meet the need of public coastal recreation," said the report.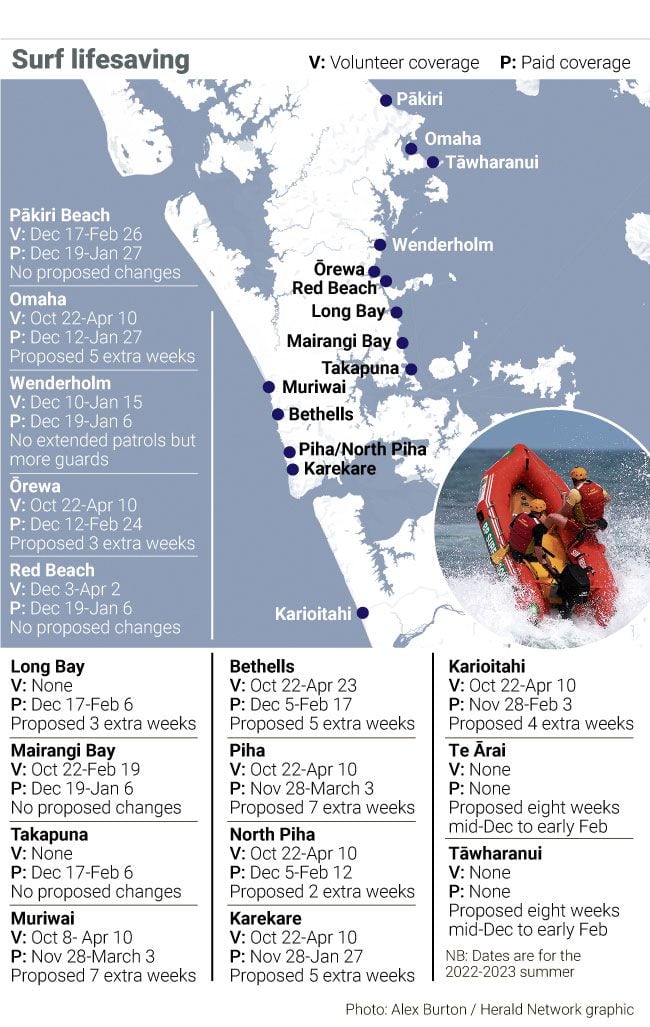 Since last Friday, six people have drowned at Auckland beaches, including two people at North Piha. The report said that last summer, lifeguards saved a total of 405 lives during patrol hours with another 602 people assisted to safety.
This was more than the previous summer, which saw 187 lifesaving rescues and 335 assists.
Williams said in addition to the proposed longer patrol season at some beaches, there are plans to extend paid hours from 10am to 6pm, starting with extending hours at West Coast beaches until 7pm.
The chances of people feeling safe for longer at Auckland beaches from next summer hinges on Auckland Council providing the extra funding.
Currently, Surf Lifesaving Northern Region receives about $1.4m a year towards running costs from the Auckland Regional Amenities Funding Board.
The board was set up by an Act of Parliament in 2008 to distribute regional grants funded by Auckland Council to culture, recreational, heritage, and rescue services.
Mayor Wayne Brown's draft budget is the toughest yet in the 13 years of the Super City, addressing a $295 million budget hole with deep cuts that include a proposal to reduce community grants.
Council governance director Phil Wilson said the report was received in late August last year, saying officers are preparing to take it to a council committee.
"A recommendation will then go to the Auckland Regional Amenities Funding Board for consideration in its future funding deliberations and separately be considered as part of the annual budget process," he said.
Williams said the council has failed to consult on the report for six months, saying if it goes through the annual plan process a funding decision will not be known until June or July by which time it will be difficult to set up new services by next summer.
Disclaimer: This story is auto-aggregated by a computer program and has not been created or edited by T-10worldnews. Publisher: admin